Ceiling fans are a wonderful touch to any room – especially here in Durham, North Carolina. They add a calming breeze that helps keep the humidity at bay (or at least it makes it more bearable!). But in order to make the most of your ceiling fan, in both Summer and Winter, it's best to switch things up, literally. You're going to need to flip the little switch to change your fan's spin direction. Here's a quick guide on when and why you should change your ceiling fan direction.
An Indoor Summer Breeze
(Ceiling Fan Direction – Counterclockwise)
During the Summer months (and I even do it during Spring as well), you want your fan to blow directly on you. This means it will be spinning counterclockwise as you look up at it. Thanks to the angle of each fan blade, this will create direct airflow into the room and assist with evaporative cooling. That's your body's normal way of cooling itself down. The actual air temperature won't be any cooler, but it will feel that way to any occupants.
Spread Warm Air Around During Winter
(Ceiling Fan Direction – Clockwise)
When our seasons change, that's when I flip that switch on my fans. In the Winter, you want your fan to turn clockwise. That helps indirectly redistribute air throughout the room. Most importantly, it pulls cool air from the floor up to the ceiling. In turn, that pushes the warm air from the ceiling back into the room. This recirculation prevents cool areas from settling in the room (like cold pockets in a pool or lake) and makes it feel warmer.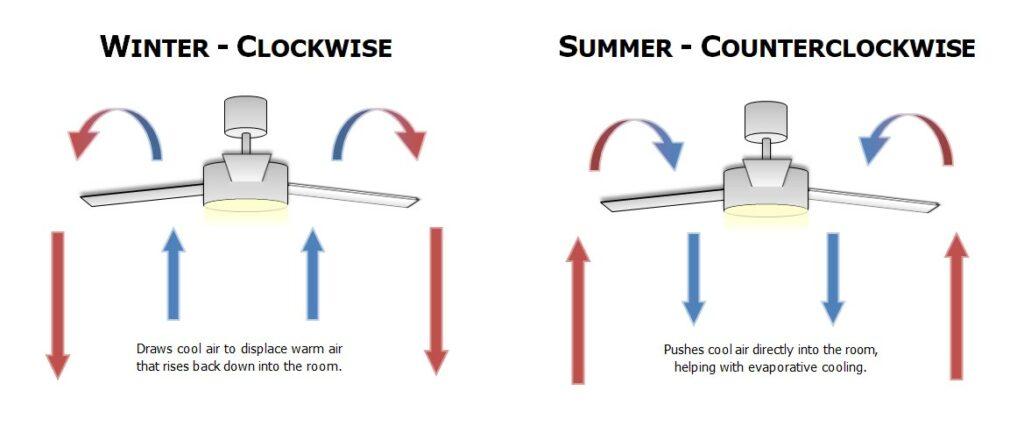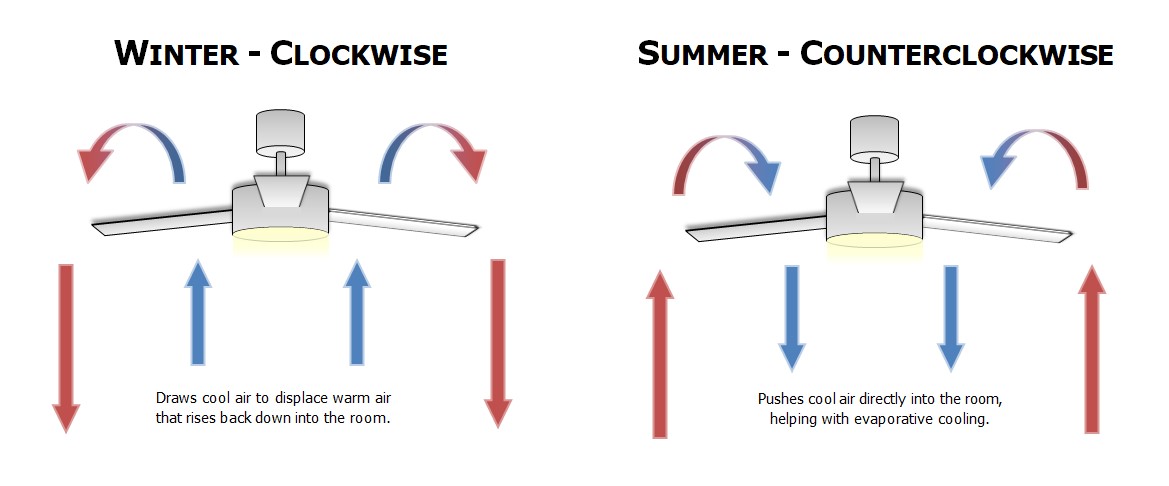 Switch With Your Clocks
Since the seasonality in Durham runs fairly close with daylight saving time, I use that as my reminder. Early November is the perfect time when things cool down. Similarly, early March is warm enough for me to want some movement in the air. So whenever I set my clocks ahead or back, I also go around the house and switch the ceiling fans. It's a simple reminder and makes it that much easier.
More Comfortable, Less HVAC
Every little bit counts when it comes to saving on our heating and air conditioning. Using these tips to change your ceiling fan direction, you can still be comfortable without having to crank up (or down) your thermostat.
Author Details
Author Posts
Stuart is a North Carolina native and NC State graduate who has been a resident of the Triangle since 2012 after a 4-year adventure in New York City. This enthusiastic craft beer nerd and self-proclaimed foodie found a home among the diverse offerings of Raleigh, Durham, and Chapel Hill. He lives with the love of his life, Shelby, and their rescued four-legged family member, Finnegan.