Whether you're thinking of selling, or simply want your home to match that spectacular lawn you have, good curb appeal can instill a sense of pride for a homeowner. Here are a few projects to boost curb appeal over a single weekend.
Trimming / Edging Your Lawn
If you want to go the extra mile after your regular lawn maintenance routine, trimming and edging go a long way. Visually dividing areas of your lawn adds purpose. It's tidy. That kind of organized look directly translates into curb appeal.
Trimming refers to horizontally the cutting grass that grows around your mailbox or other hard surface like a fence. It's the grass your lawnmower can't quite reach. Edging is when you cut vertically and define the edge of your lawn. You can also edge between your lawn and mulched area to create a tidy transition between the two.
Edging Around Trees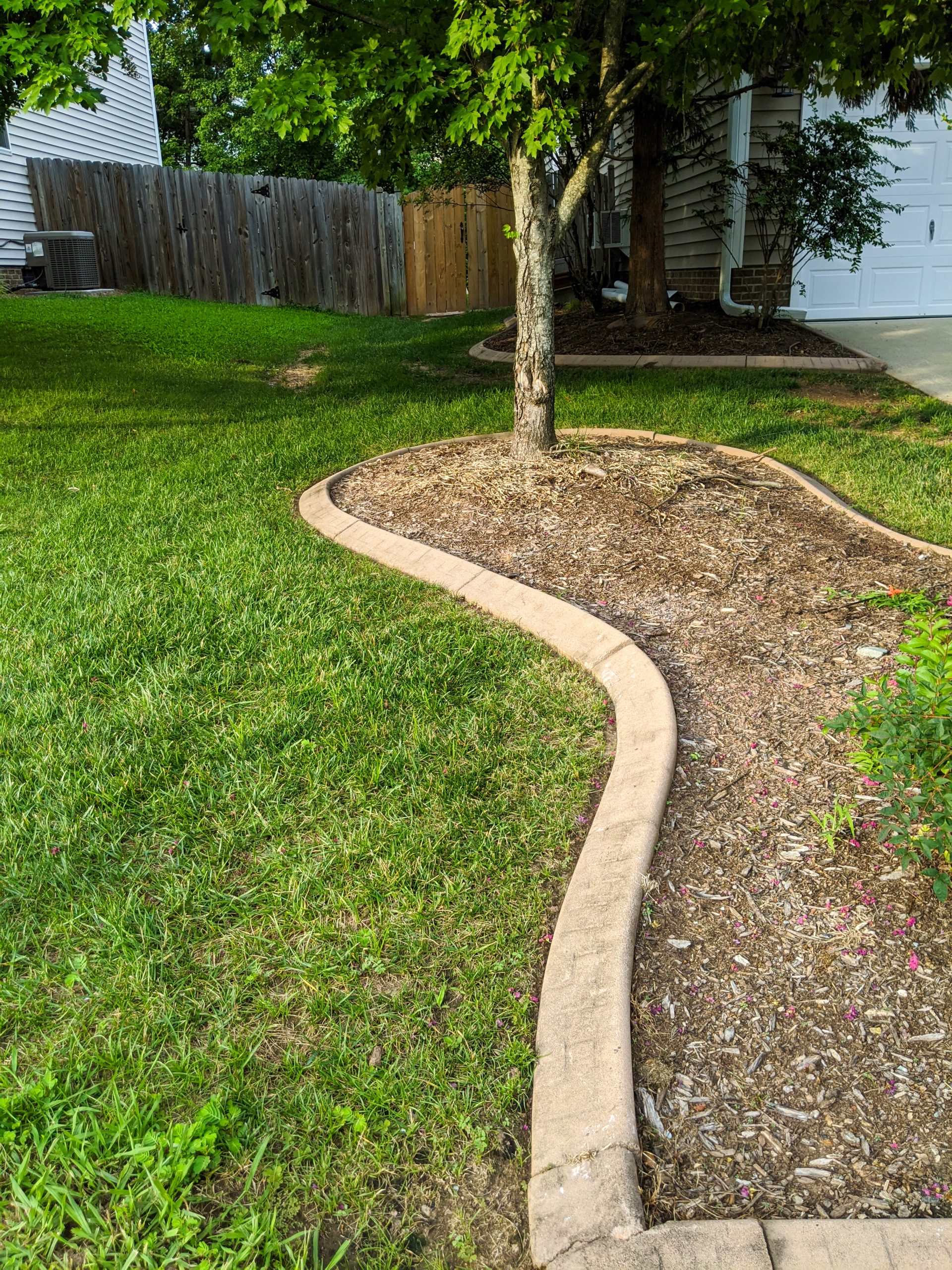 The only thing better than edging the grass, is to add your own edging. There are loads of products out there that work. From metal or rubber landscape edging to hardscape pavers, there are plenty of options to fit your budget. Think of these like the bold lines that clearly divide your lawn from a flower bed (or something similar).
Add Color To Those Front Flower Beds
Now that you've got bold lines around your flower bed, it's time to add some color to them! Seasonal flowers add beautiful punch to your curb appeal. Geraniums and marigolds do particularly well in our Summer climate. Bonus, they're easy to grow. Mums are the quintessential Autumn flower, and can last deep into our warm Winters.
Want more information than you could imagine on flowers? Check out NC State's database on over 4,000 plants that grow in and around North Carolina. https://plants.ces.ncsu.edu/
Speaking of Winter, it's a tough season to sustain for any flower. It's best to take some down time and wait for the last frost to pass before bringing the color back next year.
Mulch
Many readers might have heard of the plant and garden benefits of mulch, but it adds great curb appeal as well. There are several types, but the best eye-catching options are either pine straw or standard wood chip mulch.
Pine straw is less expensive than regular mulch and is super easy to apply. The downside is the wind can blow it out of your flower beds, leaving you with more yard work to do later.
Mulch can get pricier, but if you're only covering the base of a tree or flower bed, might be the way to go. It typically comes in three colors: black, brown, or red. I'm partial to black mulch for curb appeal. Black adds a nice contrast to a bright green lawn, giving your front yard a neat and tidy look. Brown looks more natural and blends in more, and red mulch lends a Southwest style to your exterior.
Flower Pots
If whole flower beds feel like too much to tackle, try adding some flower pots instead. You'll only need one or two plants per pot instead of filling out a flower bed.
Flower pots are also easier to care for because you don't have to worry about soil composition and tilling. Everything you need is in standard garden soil bags, ready to plant when you get home.
My favorite thing about flower pots is they give you options to place flowers where there isn't soil. Place a couple at the bottom of your stairs to give your entryway a more grand appearance. You can also flank your garage door with larger flower pots to add some color to your driveway.
Paint Your Front Door
The best way to put an exclamation point on your curb appeal is give your front door a bright, contrasting color. Reds and blues are popular choices if you have a white or neutral-colored siding. If you're a little nervous, try matching your shudders or exterior trim for a more cohesive look.
Before you head to the store, you'll want to check with your HOA. Some associations have restrictions on the colors you can choose. Many also have a process to go through if you want to change the exterior of your house.
Boost Curb Appeal
These are just a few ideas to get you started, most of them can be tackled over a weekend. It doesn't take drastic changes to give your home a lift. Simply a little color, some defined edges, and spreading some mulch will create stunning curb appeal for your home.
Author Details
Author Posts
Stuart is a North Carolina native and NC State graduate who has been a resident of the Triangle since 2012 after a 4-year adventure in New York City. This enthusiastic craft beer nerd and self-proclaimed foodie found a home among the diverse offerings of Raleigh, Durham, and Chapel Hill. He lives with the love of his life, Shelby, and their rescued four-legged family member, Finnegan.