Homeowners always want to know how to increase your home value. Home projects and improvements are fun. They make a house feel more like a home. But, let's be honest, home owners also want to get value from their improvements. With so many options, here are 6 projects you can enjoy now, and will help your home stand above the competition when you're looking to move.
Keep It Simple: Paint
The difference a fresh coat of paint makes is amazing. Color palettes change as do our tastes. Finding a new color you love can breathe new life into a room.
Color isn't the only way to update the perspective on a room. You can easily alter the way the room feels by only painting one or two walls. Here's a quick guide on how different selections can change a space. (see picture)
Walls feel like they're a little too big? Painted interior doors have become a huge interior design element. Light walls with the door as an accent help divide a space and add design cohesion between rooms.
You'd be surprised how much a fresh coat of paint can increase your home value!
Update Your Hardware
If you feel more comfortable with a screwdriver than a paint roller, switch up your hardware. Cabinet handles, drawer pulls, even faucets and shower heads are all fair game. Hardware is an easy way to keep your kitchen and bathrooms up with current trends.
Bonus points for also upgrading to soft-close cabinets. They're a great improvement to enjoy, and will have potential buyers talking when you're ready to sell.
Paint Your Kitchen Cabinets
This project takes a little more time, but can make the kitchen feel new again. Match to your countertops for a cohesive look, or pick a contrasting color for some added drama.
Two-tone cabinets are much more on-trend these days. Darker lower cabinets will help ground the kitchen. This is a great opportunity to contrast your countertops. Lighter top cabinets will visually move those cabinets out of the way, making the room feel larger.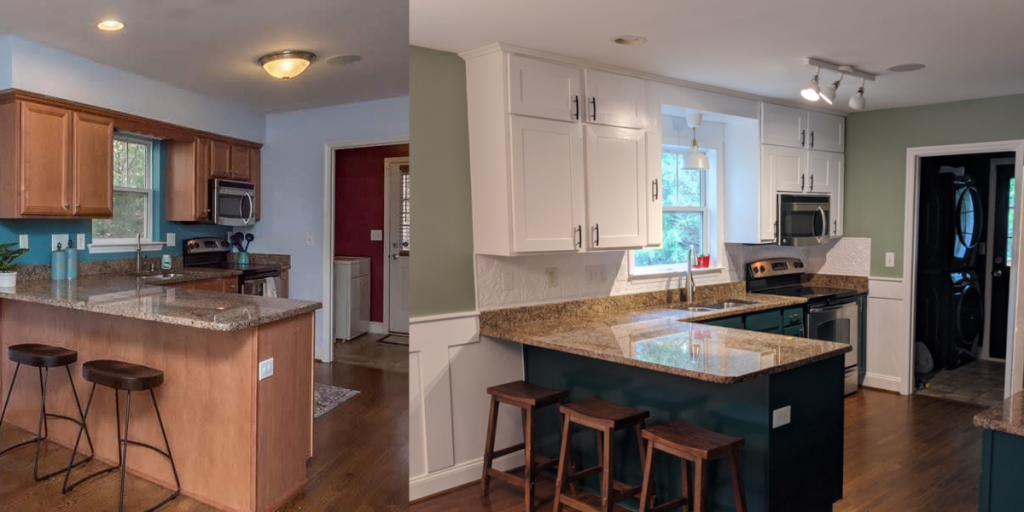 Add a Ceiling Fan
Ceiling fans are a fantastic vertical design improvement. (how many other features do you have on your ceiling?) This is a triple-threat project: it adds a visual element, overhead light, and air flow to a room! There are loads of design options to choose from. Look to match materials (wood fan with hardwood floors) or colors with the walls.
Before you head to your local home improvement store, make sure you know the dimensions of your room. Fan blade lengths are based on the size of a room – too small and you won't notice, too large and you've made a wind-tunnel.
Install a Smart Thermostat
More homeowners are becoming energy conscious, and smart thermostats are an easy improvement to lower your bills. Smart thermostats allow you to set "home" and "away" times, meaning it will automatically adjust the temperature when you usually go to work. Vacation settings keep heating and AC activity to a minimum if you're away for long periods.
Make sure your real estate agent mentions this improvement when selling your home. It will definitely pique the interest of potential buyers.
Add Curb Appeal
Time to move outside for our home improvements. There are plenty of ways to add curb appeal to your home. While it's yours, you can be the envy of the block with stellar curb appeal. When selling, first impressions are everything.
The easiest way to improve your curb appeal is with a few bags of mulch. Pick one type and use it for all your flower beds and around tree bases. Not only does mulch look great, it's good for your plants! Mulch keeps moisture in and prevents hot or cold spikes in soil temperature.
Speaking of flower beds, shape up any bushes and fill in the gaps with annuals. Low-growing flowers add dimension and color to your curb appeal when placed next to bushes.
Finish your day of outdoor home improvements by defining your edges. I'm talking both lawn and flower beds. Edge your lawn whenever you mow. It creates a defined space and keeps your grass looking well-manicured. Consider a stone or brick border for your flower beds and tree bases. Adding this type of edging tells neighbors and buyers alike that you pay attention to the details.
Increase Your Home Value
Each of these projects might seem small in its own right. Taken together, they add up to some great low-effort, high impact improvements you can enjoy, and future buyers will notice.
Author Details
Author Posts
Stuart is a North Carolina native and NC State graduate who has been a resident of the Triangle since 2012 after a 4-year adventure in New York City. This enthusiastic craft beer nerd and self-proclaimed foodie found a home among the diverse offerings of Raleigh, Durham, and Chapel Hill. He lives with the love of his life, Shelby, and their rescued four-legged family member, Finnegan.