This is the third weekly update on my indoor/outdoor garden. Hope you've been enjoying and learning!
Recap
If you're joining us for the first time, here's a quick summary.
Two weeks ago, I wrote about my peppers, broccoli, and basil plants. I talked about the right time to plant peppers and my process for doing so.
Last week, I planted a whole bunch of leafy greens and a few new herbs.
This Week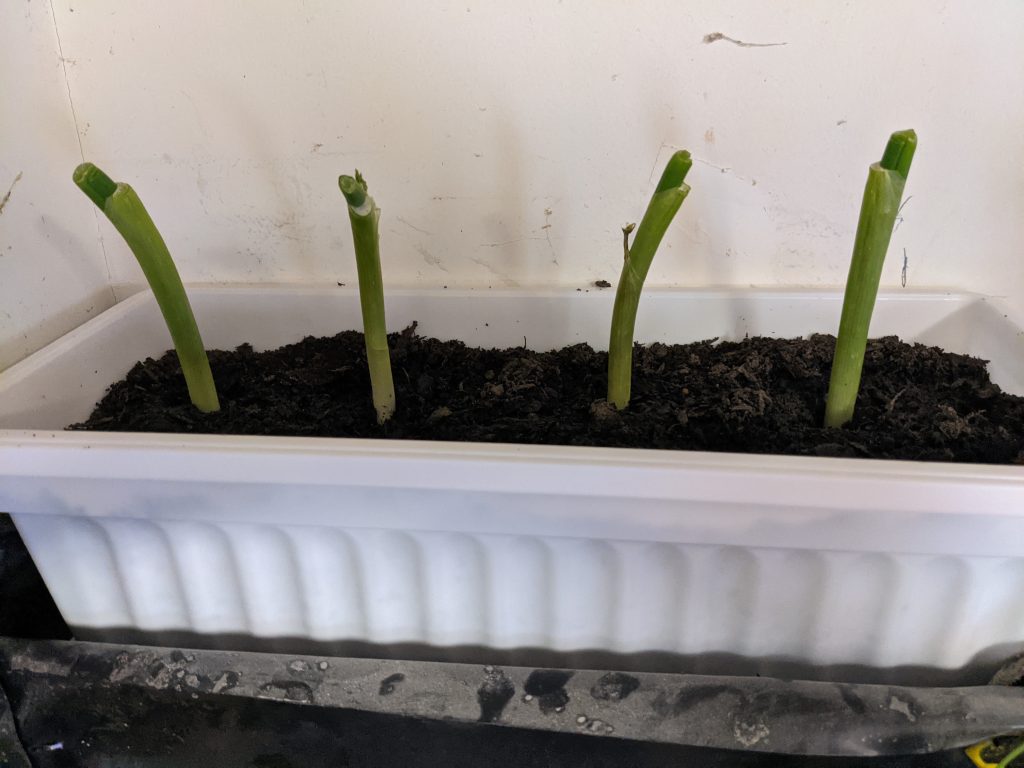 Green Onions! On February 8 (Monday), I took some store bought green onions, cut off and ate the green parts, and planted the bulbs. I planted just in a glass of water and 4 in soil in my garage garden. In the 9 days since I did this, they've almost completely grown back!
I'll have a separate article on March 1 about my process and how to do this yourself. Stay tuned for that!
For people who are onion and garlic insensitive (like myself), green onions, or chives, are less harsh on your stomach. That means I'm able to get the onion flavor without the pain. I love green onions.
This past week, I didn't plant anything new besides those green onions. As you know from my previous articles, I'm gearing up for tomato planting season. I have many different varieties of tomato plants, so I'll need all the space in my garage as I can spare!
Cherry Tomato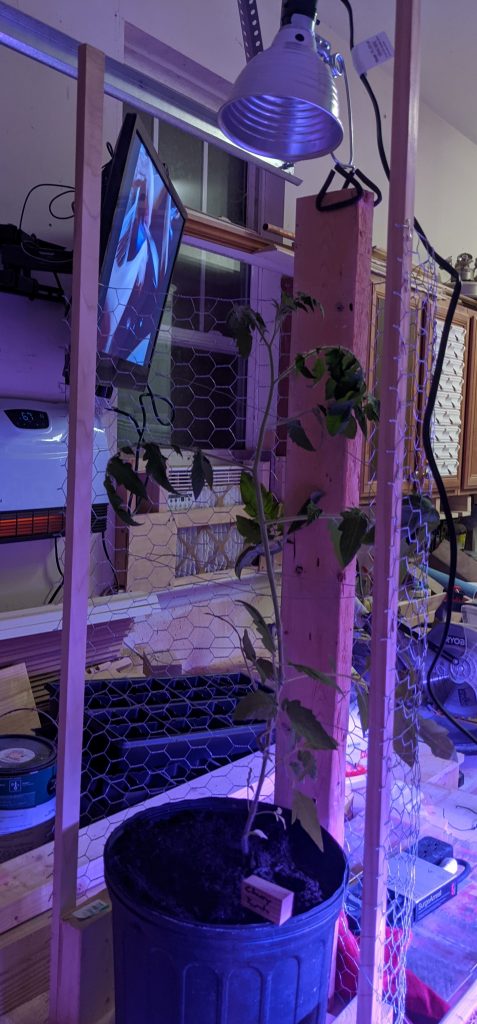 I did transplant a cherry tomato plant that outgrew its space. This plant was growing in my heated indoor growing area. I always intended it to grow and stay indoors. However, it needed a bigger space, so it is in its own cage on my workbench for now. It also has two dedicated grow lights shining on it.
Additionally, it is the closest plant to my garage heater because I need to make sure it never gets too cold. Tomato plants hate cold and need a lot of sun.
I planted fourteen cherry tomato plants a few months ago. They're all starting to mature and a few are even growing their first suckers. I gave away two of the plants and all 12 of the other ones are still alive and growing.
Learning moment: I did find that the cherry tomato plants closest to my heat lamps grew the quickest. Tomatoes love warmth, so this makes sense. Also, if you're using grow lights, make sure they're getting a lot of light. A typical grow lamp won't be enough light for a tomato plant once it starts getting bigger. They require a lot of sunlight.
Growing Progress
Peppers
My summer garden is going to be full of peppers thanks to the overwhelming success. Thank you pepper seeds for such a high rate of germination this year!
All of my peppers are growing, but pepper sprouts grow slowly. That's why they get planted by seed so early in the year!
Last week, the sprouts ranged from 1 inch to 2.5 inches. This week, they've only grown about a half inch each. Compare that to my beans and cherry tomatoes who have grown at least a foot each in that time!
Basil

Basil is also apparently a slow grower. Not much change here. They're still small enough I'm not measuring their height. I'd estimate they're all about an inch tall.
Broccoli
As it turns out, you don't want your broccoli to be too leggy or they fall over. This is what is happening to my broccoli. The solution (I think) will be to thin them out, add a little soil, and get a plant light closer to them. They all are reaching very strongly for my plant light.
They're all 3-4 inches tall.
Greens
My greens are in sprout mode, and I'm super excited! Some of them (kale, balsam peppermint sticks, and black seed simpson) sprouted in less than 48 hours. The rest have come along nicely too except for my Bloomsdale spinach. Just this morning I got my first sprout of Bloomsdale spinach. Took it long enough!
Balsam Peppermint: 13 at 3 1/2 inches
Strawberry Spinach: roughly 30 (hard to count) sprouts
Kale (Russian Red): 14 at 3 inches
Bloomsdale Spinach: 1
Mustard Spinach: 31 at 3 inches
Buttercrunch Spinach: 23 at 2 inches
Black Seed Simpson: 31 at 2 inches
New Herbs
I planted parsley, catnip, lemongrass, and dill on February 9th. I'm very excited by the herbs that have sprouted already! I get really geeky about things when they sprout.
Parsley: 4 tiny sprouts (first one poked up yesterday)
Catnip: 22
Lemongrass: 12 at roughly 1 inch
Dill: 22 at roughly 2 inches
Next Steps
I've pushed back my tomato planting date. My original calculation had the going into the ground the date of last frost, but tomatoes need to be warmer than that. I'm probably not transplanting any tomatoes outdoors until May 1.
Aside from that, I'll just be watching and maintaining all the sprouts I have so far. Once the leafy greens get larger, I'll be transplanting them into larger containers. My greens will either grow indoors or in a covered setup outside. Fortunately, spinach and lettuces are cold tolerant. I've had a few romaine plants growing all winter.
I will also be thinning out my broccoli plants soon. Each planter appears to have at least 4 sprouts in them. I'll cut them back to 1 each to give it the most nutrients and space to grow.
What I've Learned This Week
Tomatoes can't go outdoors until it is at least 50 degrees overnight.
I am not good at getting strawberry seeds to sprout.
Spinach takes longer than other greens.
Bean poles are self-pollinating, meaning you don't need bees or hand pollination if you're growing them indoors.
Green onions are easy to regrow and a safer alternative to onions.
Author Details
Author Posts
Richard Bobholz is a full time lawyer and part time amateur carpenter. As a homeowner, he likes to take care of as many home repair, maintenance, and improvement aspects as he can while ensuring things are done the right way the first time. With no real carpentry credentials, his articles focus a lot more on the broad aspects of home care and less on the proper way to do things.