If you're planning on growing basil in your summer garden this year, it is time to think about what you're planting.
Basil is a relatively easy herb to grow and it goes well in a lot of different dishes. As long as it has full sun, warm temperatures, and a little bit of water, it will be very successful!
By Seed or Plant
When you plant your basil depends on if you're starting with a seed, an established plant, or a cutting.
Cutting. I've found basil to be the second easiest plant to duplicate through cuttings. To make a cutting, just cut a branch of 3-5 inches in length. Next, remove all leaves except the top two on that branch and submerge the bottom part in water.
A cutting of basil will be ready to plant in 1-2 weeks. Roots should appear after only a few days. You can plant in dirt anytime you'd like after the roots are established. Just make sure you don't let the established plants get too cold. Mine suffered at temperatures below 50 degrees.
Last year, I started with 2 plants and ended up with over 20 full plants because of cuttings.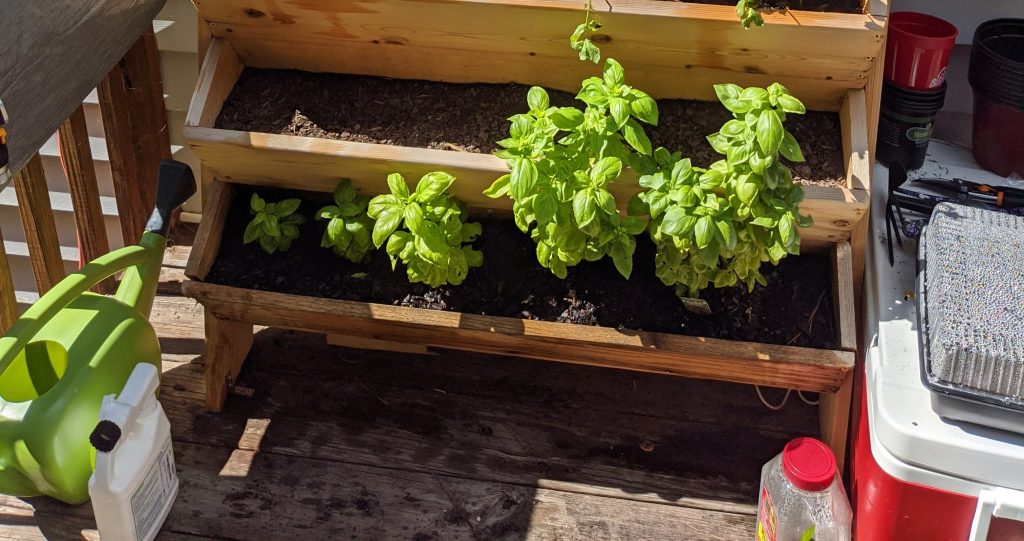 Seed. In true basil fashion, growing it from seed is also quite easy. All you need to do is plant 1-2 seeds per pot, keep them moist and warm, and wait a few days. Because you want to transplant more established plants, I recommend planting the seeds in late February.
Established Plant. If you buy established plants, ignore all this other information. Just don't plant them outdoors until the temperature is above 50 degrees.
Important Facts About Basil
| | |
| --- | --- |
| Date to Plant Seed | February 27 |
| Transplant Date | April 17 (Last Frost) |
| Harvest Date | Whenever you get medium-sized leaves |
| Germination Temperature | 70-80 Degrees |
| Time to Sprout from Seed | 3-7 Days |
| Moisture Needed to Germinate | Keep the Moist |
My Progress
I planted mine on Monday, January 25th and my sweet basil was already sprouted on January 28th. I also planted cinnamon basil and basil piccolino. The cinnamon sprouted January 29th and the piccolino a few days after that.
I always plant mine around the same time I plant my peppers because they both have extended growth times before they should be put outside. Whereas peppers need a little more root room, I plant my basil plants in the smaller seed starters. I also didn't use peat or anything other than regular dirt.
One thing I noticed was that the seeds that were the warmest sprouted first.
Author Details
Author Posts
Richard Bobholz is a full time lawyer and part time amateur carpenter. As a homeowner, he likes to take care of as many home repair, maintenance, and improvement aspects as he can while ensuring things are done the right way the first time. With no real carpentry credentials, his articles focus a lot more on the broad aspects of home care and less on the proper way to do things.