If you want peppers in your summer garden this year, it is time to plant your pepper seeds. Thanks to Covid-19, there is a surplus of gardens and a short supply of plants this year. Therefore, a lot of people are looking to start their plants from seed instead.
Not only are seeds cheaper, but you get to know the entire lifecycle of your plant. For example, I have no idea what kind of fertilizer or care each plant has been given. More importantly, I don't know if the seed is open pollinating, heirloom, or hybrid. This matters because the seeds of the plants you get might not be able to be planted next year.
Key Facts
But on to the key facts about peppers. Peppers are kind of a slow sprouting plant. Additionally, they like warm weather. And, there are so many types that your process could be all over the board.
| | |
| --- | --- |
| When to Plant Seeds | Late January (Indoors) |
| Transplant Date | After Last Frost (April 17 for me) |
| Time to Sprout from Seeds | 7-10 Days |
| Time Until First Harvest | About 90-100 Days from Seed |
| Temperature to Keep Seeds | 70-80 Degrees Fahrenheit |
| Moisture of Seeds | Keep Them Damp! |
Note: Some seeds can take an extremely long time to germinate, so don't get discouraged. Keep them warm. Keep them damp. If nothing has sprouted after 2 months, those seeds are probably not going to.
My Progress
I planted a ton of pepper seeds on Saturday (1/23/21). As you can seed from my picture, I have a whole indoor seed starter operation going!
I have multiple heated pads, heat lamps, and plant light in my setup. I don't expect everyone to have the same things I do. However, you should, at a minimum, have something like a heated pad to keep your seeds warm enough at all times.
As of today, I have a couple of tiny sprouts for my peppers! It has only been 5 days, so these sprouts are ahead of the game.
What You Need
If you want to repeat what I did, here's what you'll need:
Plant Growing Trays
Plastic Garden Tray Inserts
Seedling Heat Mat (affiliate link)
Digital Heat Mat Thermostat Controller (affiliate link)
Lamp Light Clamps
Ceramic Heat Emitters
Full Spectrum Grow Lights
Soil (I used garden soil from MiracleGro, but any soil with nutrients and few large wood chips will do great.)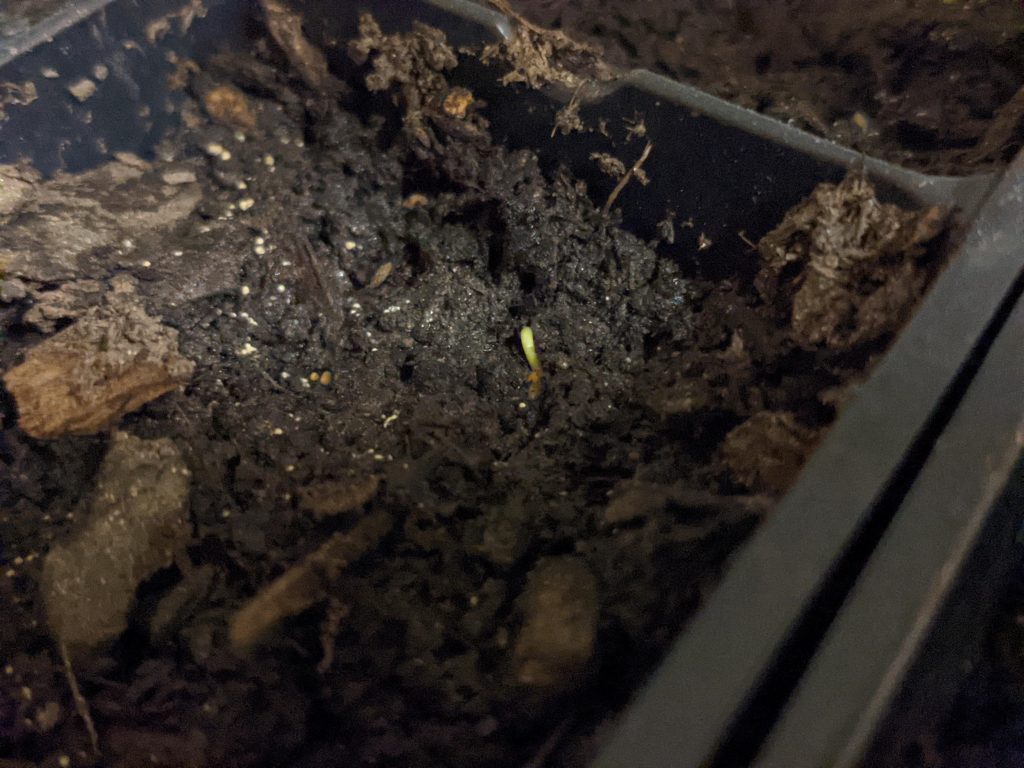 Varieties of Peppers I Plant
I've planted many varieties of peppers this year.
California Wonder (Bell Pepper)
Keystone Resistant Giant (Bell Pepper)
Bullnose (Bell Pepper)
Craig's Grande Jalapeno
Mini Bell Mix
Big Jim Chili Peppers
Anaheim Peppers
Cayenne Long Thin
Indoor Peppers
A couple months ago, I also planted several jalapeno peppers in my indoor garden. So far, none of them have grown too far. This might be because peppers want a lot of sunlight (but not too much) or they're missing something I'm not offering them like nutrients.

Keep in mind, peppers are also slow growing plants. This could just be how slow they grow in this stage. Good thing I planted early!
Author Details
Author Posts
Richard Bobholz is a full time lawyer and part time amateur carpenter. As a homeowner, he likes to take care of as many home repair, maintenance, and improvement aspects as he can while ensuring things are done the right way the first time. With no real carpentry credentials, his articles focus a lot more on the broad aspects of home care and less on the proper way to do things.