We are in the heat of the growing season now! Pun intended. It's hot. It's sunny. That means it is perfect weather for many edible plants!
Daily Routine
If it isn't downpouring, I basically have the same garden routine each morning. Because North Carolina summers can be quite warm, mornings are my garden time. My routine goes a little like this:
Quick walk through.
Tidy things up.
Remove suckers.
Check out fruit.
Support any toppled plants.
Fertilizer/pest control.
Wash and eat or store fruits.
Quick Walk Through
First, I grab my snippers and my twisty ties and do a quick walk through of the garden to see if there are obvious issues. For example, after a big rain, I often have plants that have toppled over and need reinforcing. Unless it's something like a dead bird (real example), I simply make a mental note to take care of the problems in my usual rounds.
Tidying Up
Second, I tidy things up. This involves moving any sticks or pinecones that have fallen into my beds. This is easy work and allows me to get a closer look at everything.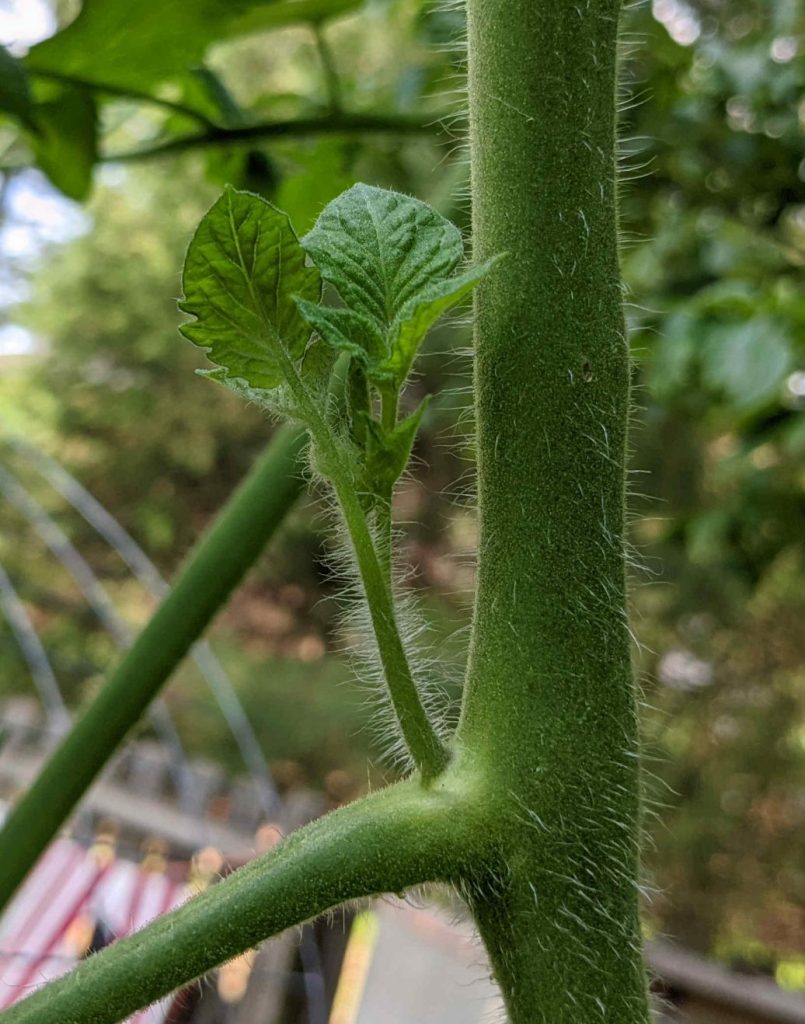 Suckers and Pruning
Third, I go through my tomato plants and remove any suckers that have grown recently. This is a daily chore because tomato plants love to spread out. While I'm removing suckers, I'm also pruning any leaves that crowd other plants.
Fruit Picking
Fourth, I look at the progress of any fruit that has been growing like peppers, tomatoes, and cucumbers. If any are ripe, I pick them and bring them inside for cleaning later. I've been planning on building a hod for some time now, but I haven't gotten around to it. (A hod is a very breathable gardening basket.)
You harvest some plants all at once, like carrots and potatoes. For these types of plants, I harvest them after all the other steps are done.
It's important you do this step before you fertilize or do your pest control treatment. I only use non-toxic varieties, but they still say you shouldn't eat the fruit for a day or two after using. For example, I use neem oil and insecticidal soaps for my pest control. Neither will kill me if I did accidentally ingest a little. However, neem oil smells terrible, and I can imagine that changes the flavor a bit.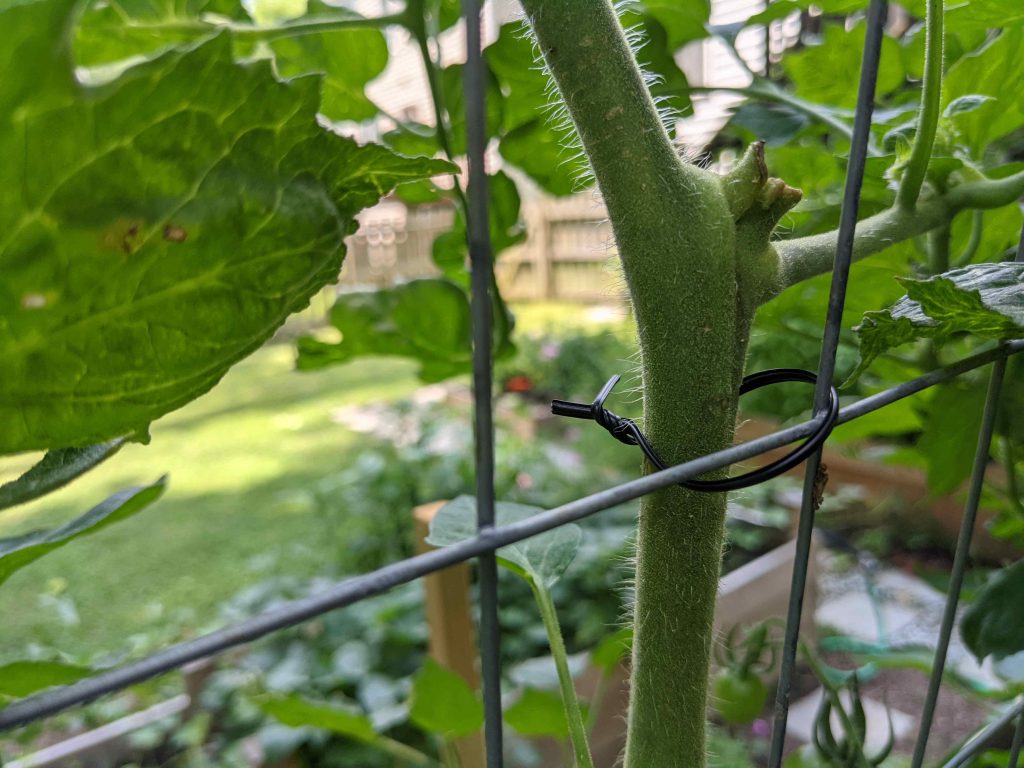 Support
Fifth, I tie up any tomatoes, peppers, cucumbers, pumpkins, watermelons, or flowers that need extra support. I use twisty ties because they can be removed and reused at the end of the season. They're also really easy to attach if you have limited mobility in the area. All my plants are attached to posts or cattle wire, so twisty ties work great on those.
When you attach plants to supports, remember to give a little give in the string or ties you use because plants need to grow and move. If you secure them too tightly, their trunks will be strangled when they grow thicker. Additionally, a little give helps them bend in the wind instead of snapping.
Fertilize and Pest Control
Sixth, I fertilize or pest control if it is in the schedule to do that. For fertilizer, I have specific formulas I use for each type of plant. However, I primarily only fertilize my tomatoes, peppers, cucumbers, pumpkins, and watermelon. Because I used a very rich compost mix to start with, I barely even need to fertilize any of those.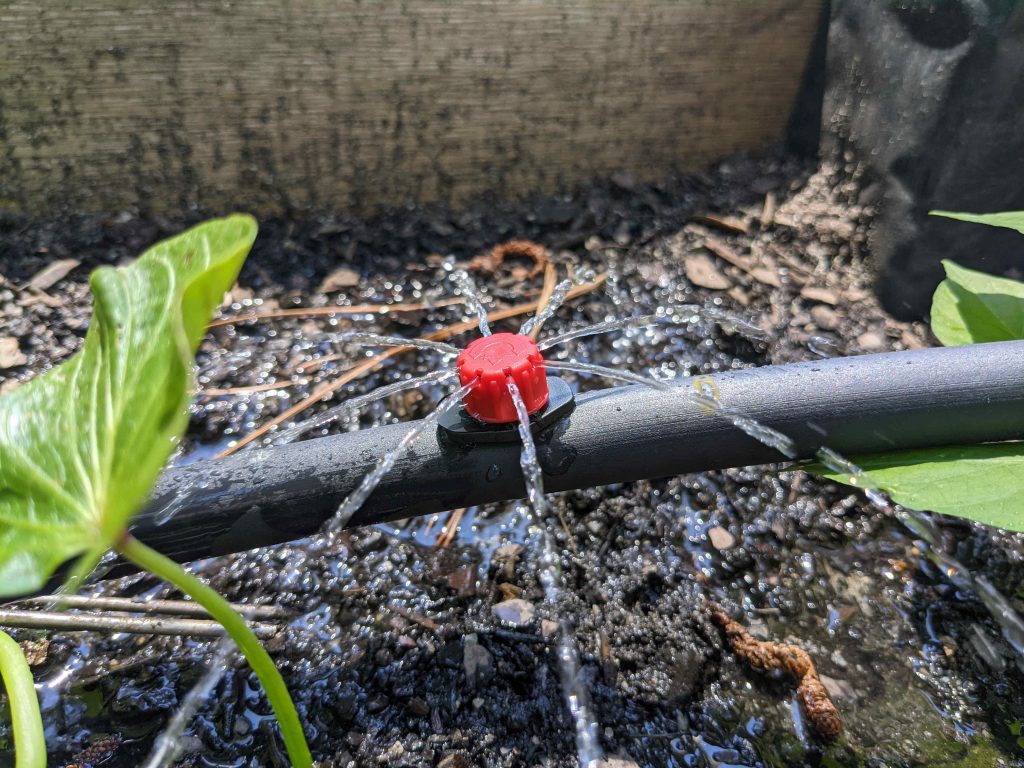 Watering
I setup my garden beds with automatic watering. There's 4 separate systems in total. If you can do this, I highly recommend it. Plants do much better when they're regularly watered, and this frees you up to tend to other things in your garden. Otherwise, by this point, I'd probably spend an hour each day just watering my plants.
If you don't have automatic watering, this needs to go pretty early in your daily routine. Early mornings are best for plants so they don't sit wet overnight. It's generally best to water at the base of plants and try to avoid getting their leaves wet. My irrigation system waters at the soil, so none of the leaves are getting wet.
My Growing Successes
Last year, I had fewer than 10 tomatoes from all of my tomato plants. This year, I have hundreds of tomatoes that are about to be ripe. I feel very good about how successful my tomato plants have been this year! Tomatoes were my biggest mistake last year, so they were also my biggest learning opportunity.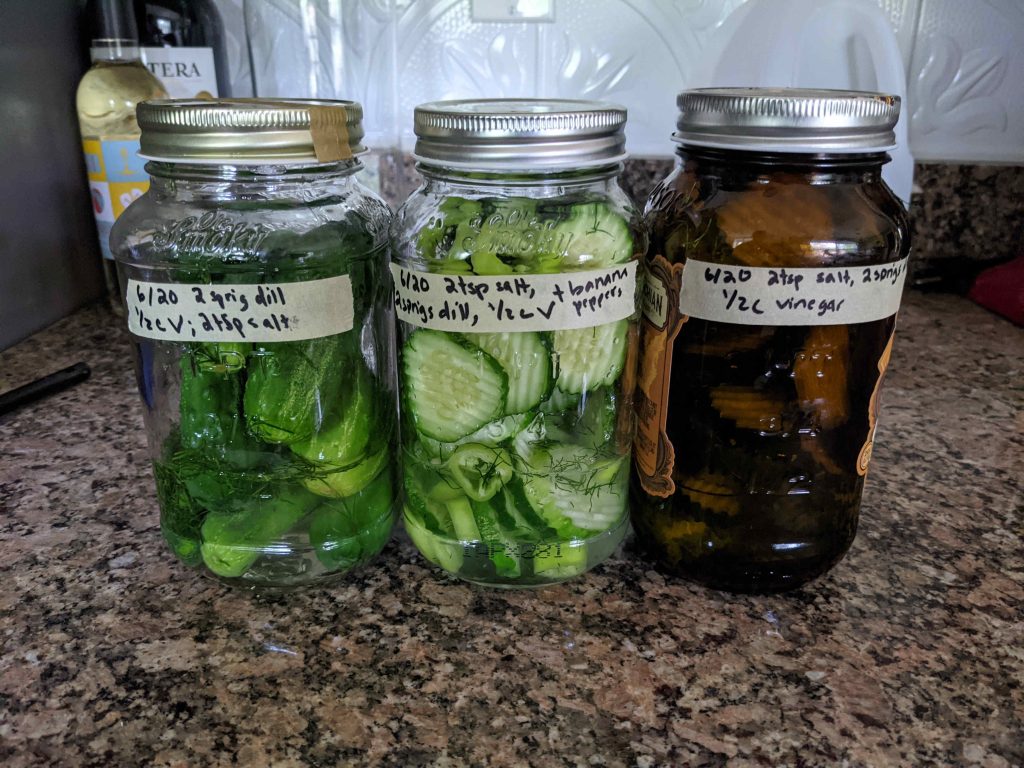 This was the first year I've planted cucumbers, so the fact that I get about 4 jars of pickles every 3 days makes me feel like they were also a huge success. On top of the growing success, I also learned how to make fridge pickles and how to can pickles! So far, I've filled 11 jars with pickles.
I have about 40 times as much basil this year as I did last year at this time. We're going to have to figure out a good pesto recipe.
I ended up with a lot of potatoes, so I count that as a success as well! At this point, I've had at least 40 pounds of potatoes, hundreds of green beans and peas, around 50 cucumbers, and a ton of herbs.
My Growing Failures
I over fertilized my tomatoes resulting in some very tall tomato plants. Once I stopped fertilizing, they slowly came back to normal growth. I started with a very rich compost mix, so it makes sense that they didn't need much supplemental nutrients.
Animals pulled out most of my corn, so I unfortunately have to figure out what to do about that for next year. I have 3 stalks out of about 40 left. Next year, they'll have their own dedicated planter in my front yard, so I'll be researching and thinking of ways to keep out the wildlife. We don't have a fence in our front yard, so I have to build a fence to keep the deer out as well.
My watermelons have been very slow to grow. I'll have to start them earlier next year or fertilize them earlier to get a faster result.
I've had some spatial issues this year. For example, I didn't know the flowers we planted were going to get to be 3 feet tall. Those flowers are blocking the sun from some of the dill and other herbs. Next year, we'll only plant shorter flowers were these are and move the larger flowers to another location.
I planted my sweet potatoes very late because I tried planting them just like other potatoes. As it turns out, sweet potatoes require a vastly different approach.
I didn't thin out my carrots enough. Now I know.
Planning for Next Year
You wouldn't think it, but this is the opportune time to plan for next year's garden. Especially when considering spacing, pests, and
Author Details
Author Posts
Richard Bobholz is a full time lawyer and part time amateur carpenter. As a homeowner, he likes to take care of as many home repair, maintenance, and improvement aspects as he can while ensuring things are done the right way the first time. With no real carpentry credentials, his articles focus a lot more on the broad aspects of home care and less on the proper way to do things.