Among the many ways to cook a turkey, I chose a smoked turkey for Thanksgiving. This here is a guide to preparing your own smoked turkey. However, mostly it has been serving as a place for me to put my own notes. It's helped me. Hopefully it helps you!
Buy a Turkey
Your first step is buying a turkey. There are a lot of ways to do this I suppose, but I generally buy a frozen one from a local grocery store. Brands and styles matter a bit. Size is my biggest variable. Stop trying to figure this out yourself and use the Butterball Turkey Size Calculator.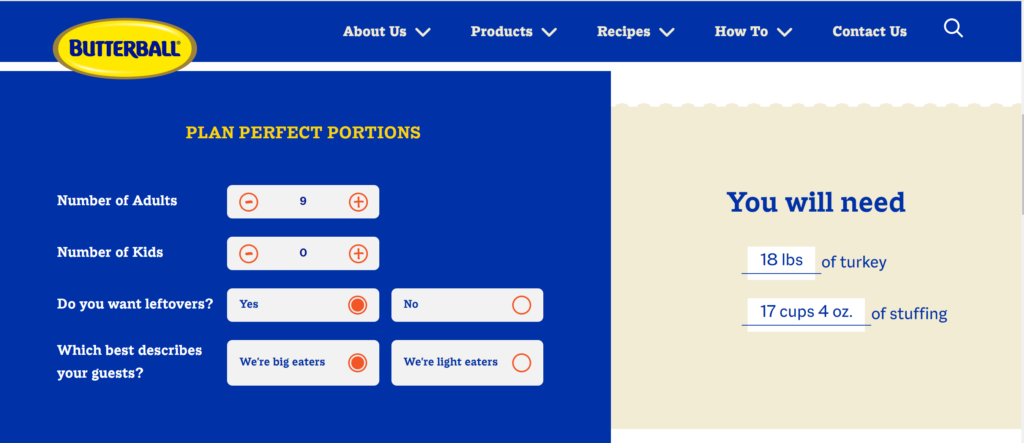 As you can see from my results, I need an 18 pound turkey. From my experience, that should be about right unless I get a few extra guests.
When to Take It Out of Freezer
My method of thawing a frozen turkey involves soaking it in brine in very cold water. The thawing process takes almost as long as just placing it in your fridge. You can use the same Butterball page for thawing duration. For an 18 pound turkey, it takes 4 and a half days. That's a long time in brine, so you know it gets all the way through.
If you choose my method or putting in your fridge for several days, it's important to keep the surrounding temps below 40. The FDA has food safety guidelines you should always follow.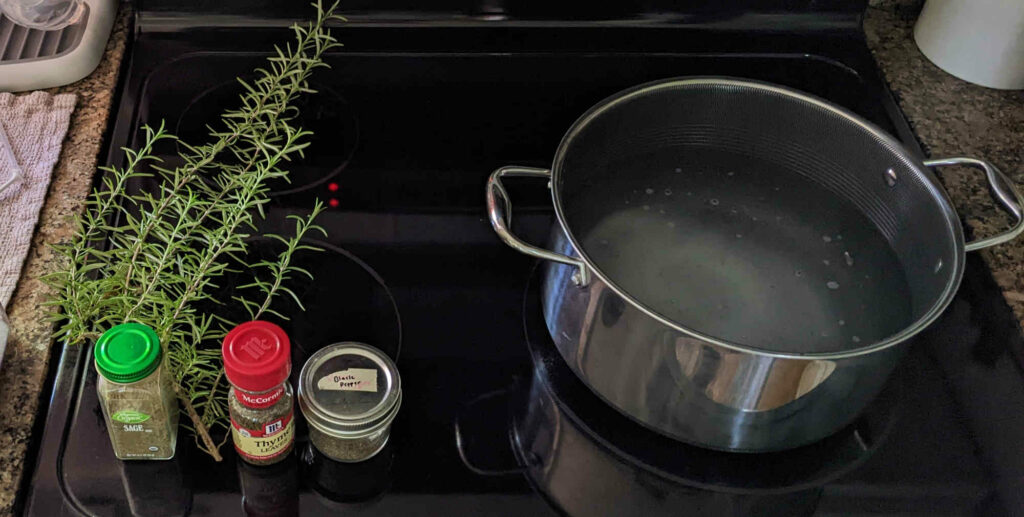 Prepare the Brine
A brine is a mixture of salt, water, and whatever herbs and spices you want. My brine is salt, water, pepper, garlic, oregano, thyme, and a lot of rosemary. To prepare the brine, you fill a pot with as much water you might need and the herbs and spices and bring to a boil.
Brine the Turkey
To brine a turkey, you have to fill a container with the brine and put the turkey in it. Make sure the entire turkey is covered. Because it would be too much brine, I recommend using a brine bag/oven bag. That way, you can put the turkey in that bag, pinch off the edges, and then fill with just enough brine to cover the turkey.
Because oven bags aren't always that strong, but sure to still keep the whole setup in a hard container as well as the oven bag. I use a large plastic cooler that I keep below 40 degrees. I monitor the temperature with a wireless grill thermometer.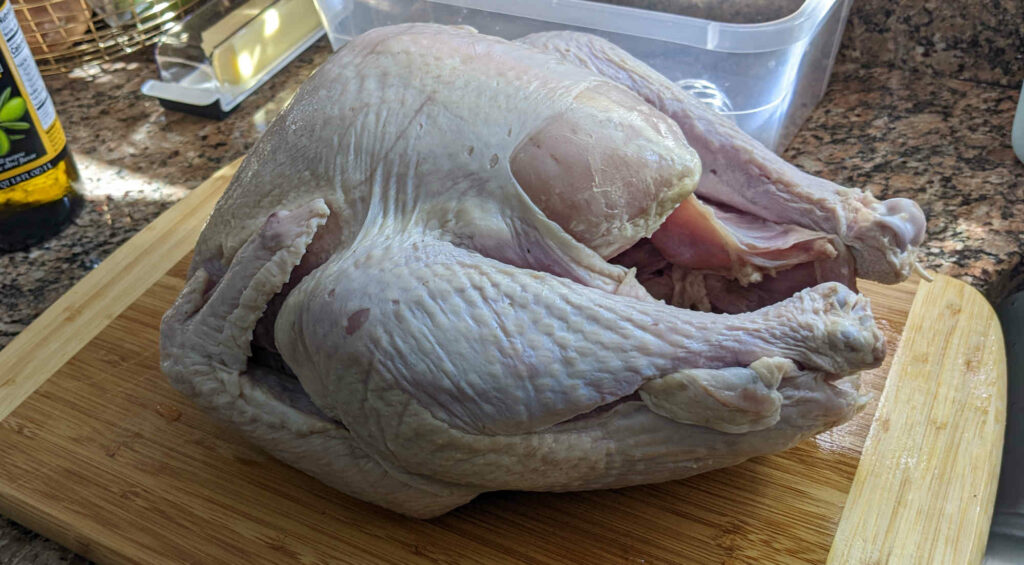 Rise It Off
Once your turkey is thawed and fully brined, it's time to rinse it off. This gets rid of all the bits and pieces you don't need. Additionally, this is your step to remove the neck and innards pack. Save the innards if you plan on using it for stock. Otherwise, toss it.
Get the Smoker up to Temp
For smoking a turkey, you want the temperature to be 225. For best results, keep it as close to that as you can. Every smoker is different, so you're just going to have to know how long it takes for yours to get to that temperature and how to keep it there.
Choose Wood Chips
You can choose whatever wood chips you want, but when it comes to flavor that pairs best with poultry, I recommend a fruit wood or hickory. Applewood and cherry are strong options, but it all depends on the flavor you're going for.
Smoke the Turkey
Butterball says it takes 8-12 hours to smoke a turkey, but it varies wildly on how big your turkey is, temperature when it went on the smoker, and how consistent you keep the temperature at 225. My 6 pound turkey took a few hours. My 12 pound turkey took between 5-6 hours. I'm estimating my 18 pound turkey will take the 8-12 hours they're suggesting because it has to cook all the way through. Looks like I'm starting the smoker well before the sun comes up!
If you want your turkey to stay moist throughout, you need a water pan in your smoker. This will keep the air moisture high. Because of how long it'll take to cook, you're probably going to refill this pan at least a couple times.
I've also found basting is important. Anything that cooks that long has a tendency to dry out. Basting will help keep the moisture in.
If you want to save the drippings from your smoked turkey to make gravy, you absolutely can do that! Just put a pan under the turkey to collect the drippings. However, you will not want the turkey in that pan or the smoke won't reach all sides of the turkey.
Author Details
Author Posts
Richard Bobholz is a full time lawyer and part time amateur carpenter. As a homeowner, he likes to take care of as many home repair, maintenance, and improvement aspects as he can while ensuring things are done the right way the first time. With no real carpentry credentials, his articles focus a lot more on the broad aspects of home care and less on the proper way to do things.