Repurposing Old Furniture
As an Interior Designer, my clients regularly ask me if all their furniture needs to be replaced or if repurposing currently owned pieces can be an option. One of my favorite things when designing a space for a client is seeing what they currently have and how they can reuse it. Depending on the piece of furniture, there are many ways that this can be done.
Is it worth Repurposing?
One of the main things to think about is quality. Make sure a piece of furniture is worth repurposing before you begin. If the piece of furniture is from a reputable manufacturer, yes! If it has lasted generations, yes! On the other hand, furniture from cheaper stores, like Wal-Mart will generally end up costing you more in the long run to recover or paint.
Wood Furniture
Do you have a cabinet or side table in your home given to you by a family member when you first bought your home? It's usually not your favorite piece, but it's useful and serves a purpose. One fun thing to do to make this piece of furniture brand new and bring it life is to paint it! With so many options of paint colors out there, why not transform this passed down piece into a statement in your home?
Shellac painting is one of the best finishes to bring life to an older piece of furniture. It gives it a wonderful shine and brings a statement to any room. Stain is another good option if you are looking to brighten up the piece of furniture while keeping the original wood grain. What if you have a side table that is still in great condition but you want to update it slightly? Fortunately, an easy way to do this is purchasing a new knob for the drawer. It completely changes the feel and makes it look like a completely different piece!
Re-Upholstering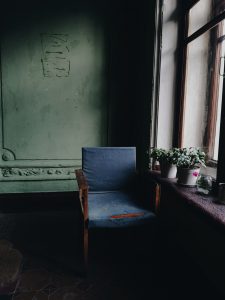 So you're looking at the couch your parents have had in storage that they passed down to you. You've had it for a few years now, and the fabric is completely outdated. You're ready for something fresh. You know the sofa is from a very reputable maker and don't want to get rid of it, so why not reupholster it! Finding a fun fabric to make an antique chair or sofa look updated is always a fantastic option. You can choose a fun textured fabric for the main body of the chair. Then, pick a contrasting color for the cording and buttons (if you have them). This will bring some zing to an outdated piece.
Conclusion on Repurposing
With so many options out there to update an older piece of furniture why not make the change. Bring an old piece back to life by updating the paint or fabric and you will feel like you have a completely different piece in your home. Not only will it be a focal point for your home, but it will brighten your day as well every time you see it.
Sorry! The Author has not filled his profile.